Today has been an extra hard day to be gay. I'm sure other queer folks can relate. First, I went into work to hear two other queer people in the elevator talking about the Supreme Court decision. I whipped out my phone to read the article. The Supreme Court sided with the Colorado baker—you know, the one who refused to make a wedding cake for a gay couple.
Within 5 minutes of hearing the Supreme Court news, I walked into a difficult conversation—prompted by someone else—about another person making crude remarks about my sexuality. Don't get me wrong, I felt supported by the person who stood up for me, but it was a hard discussion that I didn't want to have. I'd love to just be left alone.
I got home and poured myself a drink. I started sipping my 3:00pm wine (don't judge!) when my best friend (also gay) messaged me about the Supreme Court case. We went back and forth about how scary this decision is for both of us. We're talking about bakeries now, but what about restaurants? Hotels? Law offices? Housing complexes? Hospitals? Freedom of religion shouldn't allow for blatant discrimination, right?
While I'm angry and heartbroken by the events of the day, I'm even more upset at myself for my responses to them. I responded to the discrimination against me with, "Well, I've dealt with worse. I'll just stay away from this person. Can we not talk about it again? I don't want to label myself as a problem." When my best friend and I were talking about the implications of the Supreme Court decision, I thought to myself, "If this were to affect housing, I should be able to look straight, plus I'm single, so I could weasel my way through housing as a "straight woman" if need be." I'm embarrassed and ashamed to share these responses with all of you. I hate myself for saying and thinking them. But I also hate that I live in a country where I've been conditioned to think this way.
It's been such a hard day to be gay. To those of you who had similar days, I feel your pain. I'm sorry. I'm here for you. You are my family.
They won't serve me cake, but I will.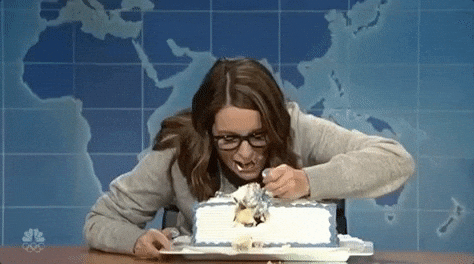 Too soon? Yeah, definitely.