I've been going to the same dentist since I was a kid. Even as a grown-ass woman, I drive two states away (4+ hours) to go to the dentist in my hometown. Getting a new dentist didn't even occur to me until this morning—you see, I'm from a very small town. Loyalty is *beyond* important to us small-town folks.
I went to my dentist for my biannual cleaning this morning. When I got in the room, my hygienist—we'll call her Jackie—started in with her usual questions: How's your dad? Is your sister still with what's-his-face? Is your mom still working at X? Did you hear about [insert latest small-town gossip]?
For the first 40 minutes of the appointment, I entertained her questions. I told her updates about my job, family, and friends from high school (the ones who used to get their teeth cleaned there).
Between flossing and scraping, I asked Jackie how her family was doing:
Jackie: She's doing well. She married X. You know, he's not your usual guy, but he's nice to her. I mean, he doesn't hunt or fish or anything! [I'm from a rural New England town where these are THE markers of manhood.] Get this! He doesn't even know how to use a drill! What kind of man doesn't know how to use a drill?! Have you ever met such a man??
Me: *happy that I don't have to respond to this problematic statement since my mouth is full of gloved hands*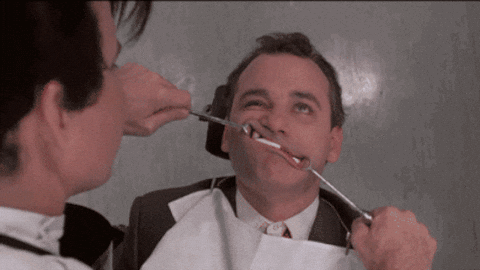 Jackie: But he's good to her, so we're happy. I hear your sister is getting married soon?
Jackie: Do you like him? Is he Mr. Right?
Me: He's really wonderful. I'm so happy for them.
Jackie: Soooo, have you found your Mr. Right yet?
Jackie: Oh, it's okay dear. You have plenty of time. Plus, you're probably too busy with your career right now to even date, right?
Me: Well I date, but I'm single right now.
Jackie: So you've dated since moving to [my current location]?
Her: Oh, so you had a boyfriend then? Oh honey, I'm so sorry it didn't work out with him.
Me: Well, I had a partner last year…
Me: I—I— actually, I date women now.
Her: Oh. Well okay… Do you want mint or grape toothpaste today?
The remaining 15 minutes were filled exclusively with talk about my teeth, gums, and how I really should be flossing every day (yeah, yeah, yeah). If you knew Jackie, you would understand how very unusual this was.
Though Jackie didn't actually say anything anti-gay, I'm guessing she isn't particularly gay-friendly—especially given her overt investment in gender roles. For this reason, I regretted coming out to her when I got out to my car. But I also felt like I would have been hiding who I really am if I hadn't corrected her NUMEROUS false assumptions about my "Mr. Right."
After I came out to my immediate family, I promised myself that I wouldn't hide who I am for others' benefit. If I want to stop being ashamed of who I am, I need to act like I'm not. And eventually, if I continue acting like I'm not ashamed of who I am—especially in my conservative, Trump-supporting hometown
—
maybe one day I actually won't be.